Tabletop Miniatures Games
Geek City is a haven of tabletop miniatures fun and games! We offer a wide range of games, paints and other hobby supplies to help get you having fun too! Do you need help making your miniatures look amazing? We've got you covered there too! With many of our staff being expert painters. Our store strives to offer the best selection of our most popular games, as well as host the communities that make them happen! 
Currently we cover quite the selection of games, from Star Wars Legion to Marvel Crisis Protocol and many more! But we're always adding to that, so keep an eye out for some new and exciting games as they pop up too! Geek City also plays host to quite a few leagues based on our more popular offerings and tournaments as well. 
Want to join us at our next league or tournament? Make sure to check out the EVENTS CALENDAR and join our DISCORD to stay up to date on all the events we're hosting!
Want to know more about our most popular miniatures games? Browse down to the product that interests you and click to learn more. Have questions that aren't answered there? Feel free to head in-store and we'll be happy to do our best to help. A majority of our miniatures communities are chatting about on DISCORD so you'll want to check in there too!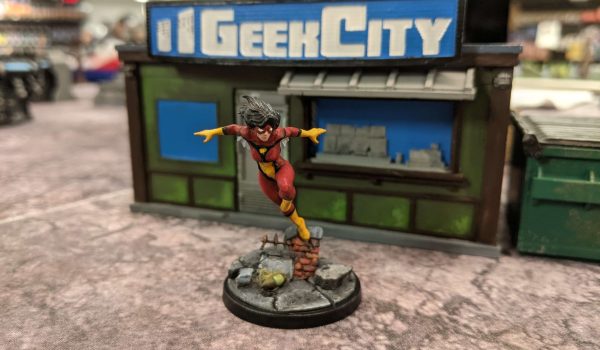 STAR WARS SHATTERPOINT – Are you tired of huge battles and wanting something a bit more… light saber to light saber? Here at Geek City we offer a wide range of Shatterpoint miniatures, accessories and more! We also host leagues, tournaments and special events. Head to this page to learn more!
STAR WARS LEGION – Want to help the galaxy? Or snuff out rebel scum? Legion is the game for you! We offer a huge selection of Legion goodies from trooper addons to full base sets. As well as offering league and tournaments. Want to know more? Head to our Legion page!
MARVEL CRISIS PROTOCOL – Only the best super teams make it through in this exciting tabletop game and we've got everything to make sure you've got the team that meets your needs! As well as scheduled game play and competitive events! You'll want to head over here to learn more!
AND MORE – There are so many amazing tabletop miniatures games that it's impossible to carry them all but we're always adding to our selection and trying new things! So keep checking back to see what pops in!